⚔️ State of The Raid 🔥 April
An update on all things Raid Guild from the month of April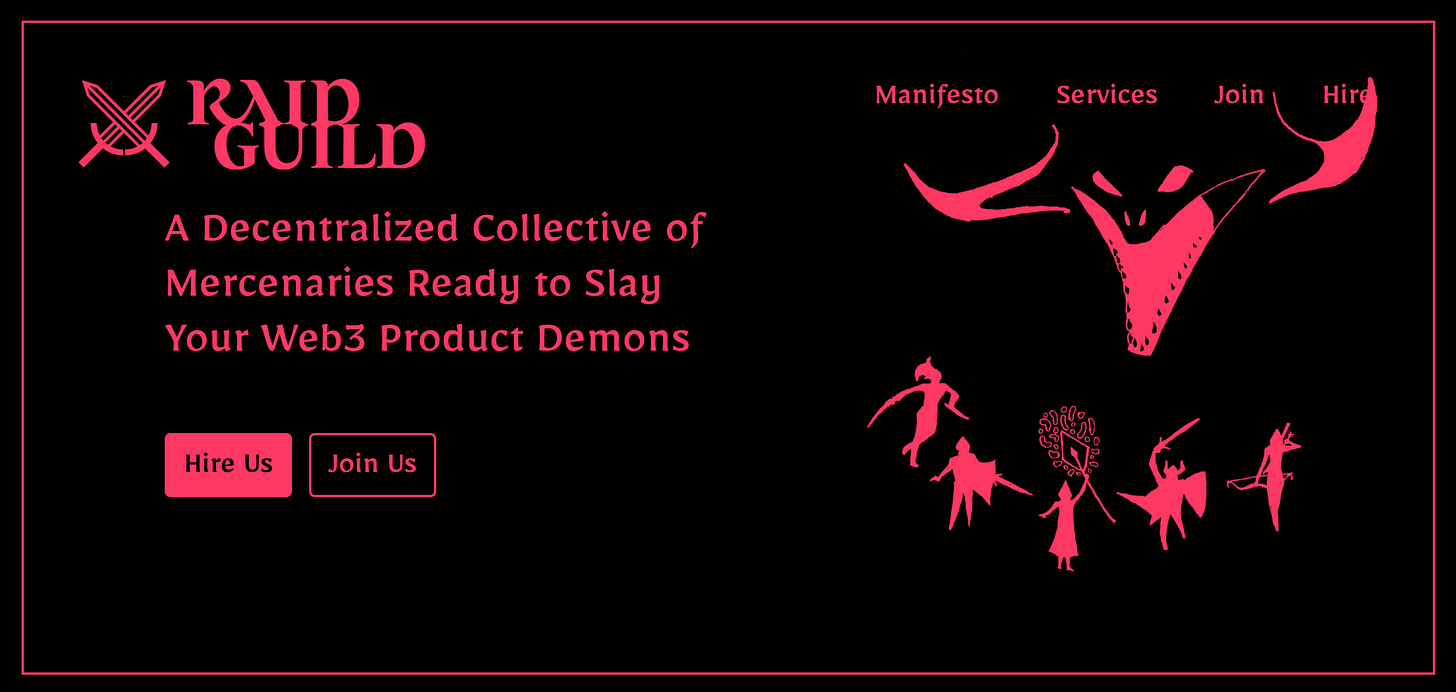 Greetings Traveler!

It's with great pride that we introduce State of the Raid - your scroll to keep up on all things Raid Guild.
For those unfamiliar, Raid Guild is a decentralized collective of Web3 mercenaries shaping the future of distributed work.
In this scroll, we'll be diving into some of the bigger quests from this past month - shining some light on the takeaways and lessons learned from social coordination in an entirely decentralized manner.

First and foremost, we'd like to thank all of those who contributed to our Gitcoin Grant campaign, where we were able to raise767 DAI from 55 unique contributors. All of this funding was dumped into the Guild for future internal Raids!

GUILD STATS:
DAO BANK: 35ETH

TOTAL GUILDERS: 33

TOTAL PROPOSALS: 41
We know you're busy, so here's a quick summary of what we've been working on in the past month.
INTERNAL RAIDS:
MolochV2 Migration - Raid Guild has successfully migrated from MolochV1 to the new, improved, lean, mean fighting machine that is MolochV2

WrapETH - A quick and easy way to wrap and unwrap Ether

Moloch Minion - An internal Raid building a way to run any arbitrary contract transaction through a DAO proposal and vote.

DAO Badges - Gamifying the Moloch universe with badges, certificates and leaderboards.

Money Circle - Trusted P2P lending circle between DAO members
EXTERNAL RAIDS:
Stake on Me - Shipped a personal token issuance and redemption platform built on bonding curves

MetaFactory - Digital brand factories for limited edition goods founded by members of Raid Guild

1UP - DAO onboarding through a Telegram bot to incentivize and recognize value added participation

Gitcoin Personal Tokens - Building personal token issuance and redemption directly into Gitcoin

MetaLoft Radio - Integrating loft.radio into MetaFuel using Abridged contract wallets for buttery smooth user on-boarding. Stream lo-fi directly on Telegram!
FORKING RAID GUILD CLASSIC
For many moons, Raid Guild lived as a MolochV1 DAO.
Upon the launch of V2, there were a number of reasons for Raid Guild to shift to the new and improved framework - all of which are discussed in detail here.
In the middle of April, during the coveted weekly Roundtable, Raid Guild V2 was summoned to the most glorious medieval music one could imagine.
What proceeded was a week-long process in which members raqequit shares from the newly dubbed Raid Guild Classic to the new Raid Guild which is being used today.
We tracked all of this via a spreadsheet, and made a guide for members to follow which can be found here.
In summary, the act of migrating is quite simple. It's the act of getting people to actually do it which proved to be a bigger challenge.
With 99% of members migrating, this experiment was a great success, ultimately providing a strong foundation for the Guild to grow and tackle new use cases.
WRAPETH
Seeing as Raid Guild (and many other DAOs) utilize wrapped Ether (wETH) as their base currency, we found it necessary to create an intuitive portal to quickly go to and from the pegged version of Ether without having to navigate through many various sites.
For anyone who's swapped wETH <> ETH on a DEX like Unsiwap, you've likely experienced some slippage as a result of third party liquidity pools.
With wrapeth.com, wrapping occurs directly with the WETH smart contract, meaning there are no fees and zero slippage.
For most people wrapping Ether for their first time, the weth.io site is fantastic for educational purposes on what wETH is and why its necessary.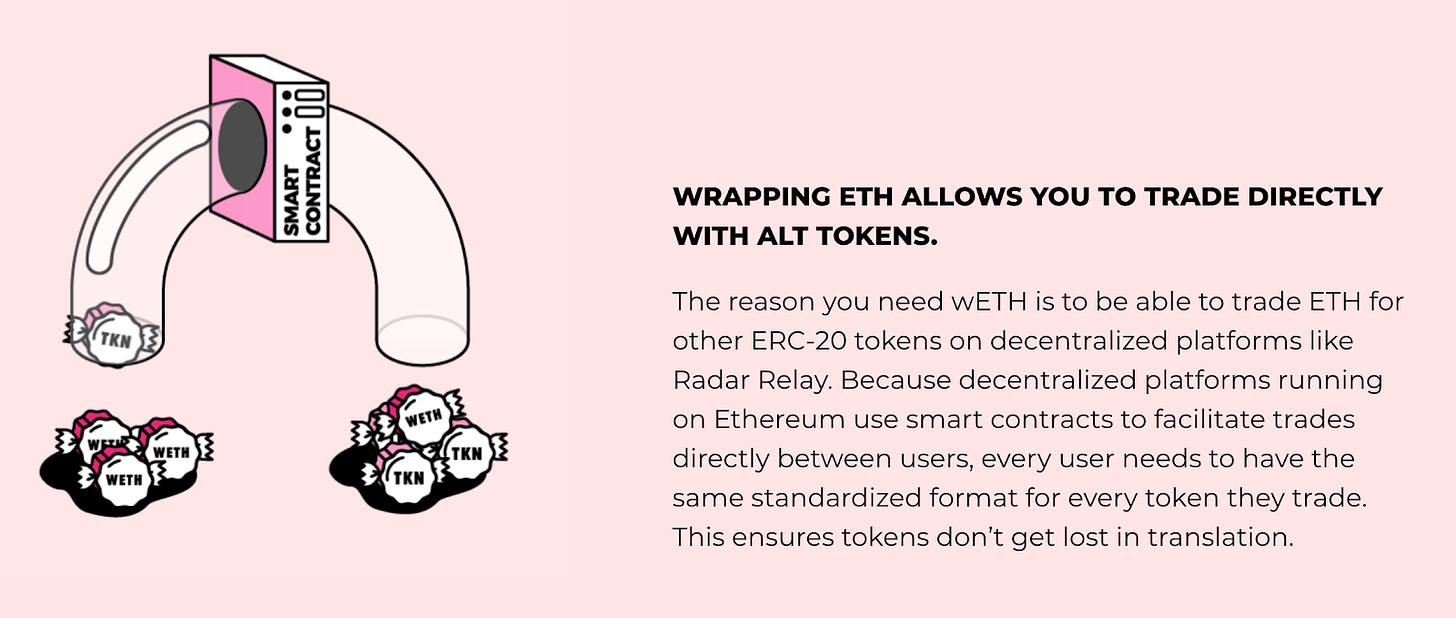 However, users have to scroll to the very bottom of the page where they are then sent to Radar Relay in order to actually do the wrapping.

Instead, we wanted to make a simple site - wrapeth.com - which allows users to quickly go to and from wrapped Ether in one click.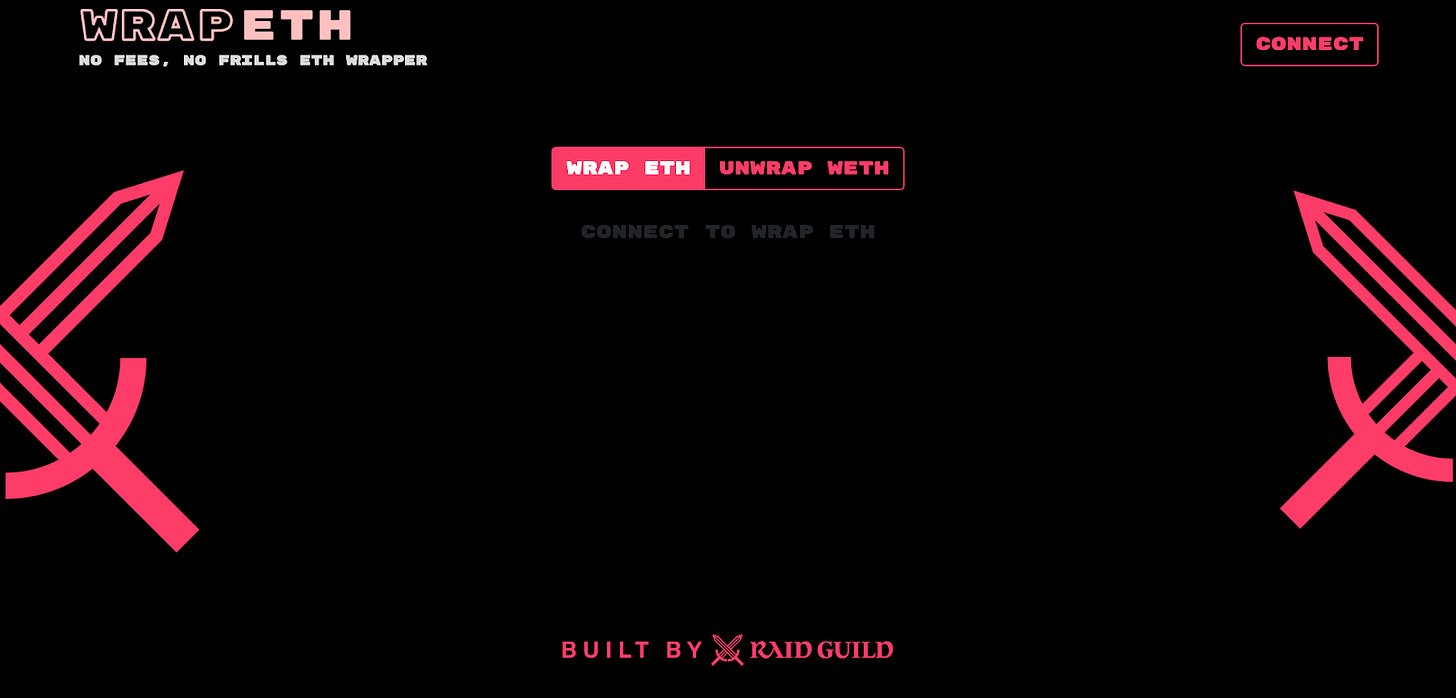 Built with the Raid Guild wizardry and branding, we believe this is a strong tool for any project which requires users to utilize an ERC20 version of Ether.
MOLOCH MINION
Ever wish your DAO could call contracts on its own? Well, with Minion this is now a reality.
Moloch Minions is an internal Raid which summons a contract account to act on behalf of the DAO. This means it can do things on behalf of the DAO like swapping tokens, adding liquidity to Uniswap, issue NFTs and more.
The bigger premise here is that with Minions, it's now possible for Moloch DAOs to run any arbitrary contract transaction through a DAO proposal and vote.
While the possibilities of this are endless, the immediate use-case is issuing certificates and badges for honorable actions by different Guilders
DAO BADGES
Speaking of those actions, Raid Guild has partnered with the Dragon Quest Hackathon to issue bounties for the creation of artwork to be used for NFT badges.
This comes as a larger tie in with the launch of https://badges.raidguild.org/ - a way for any MolochDAO to assign badges for various actions like creating proposals, summoning a DAO, voting yes or no, and even getting ragekicked to DAO jail.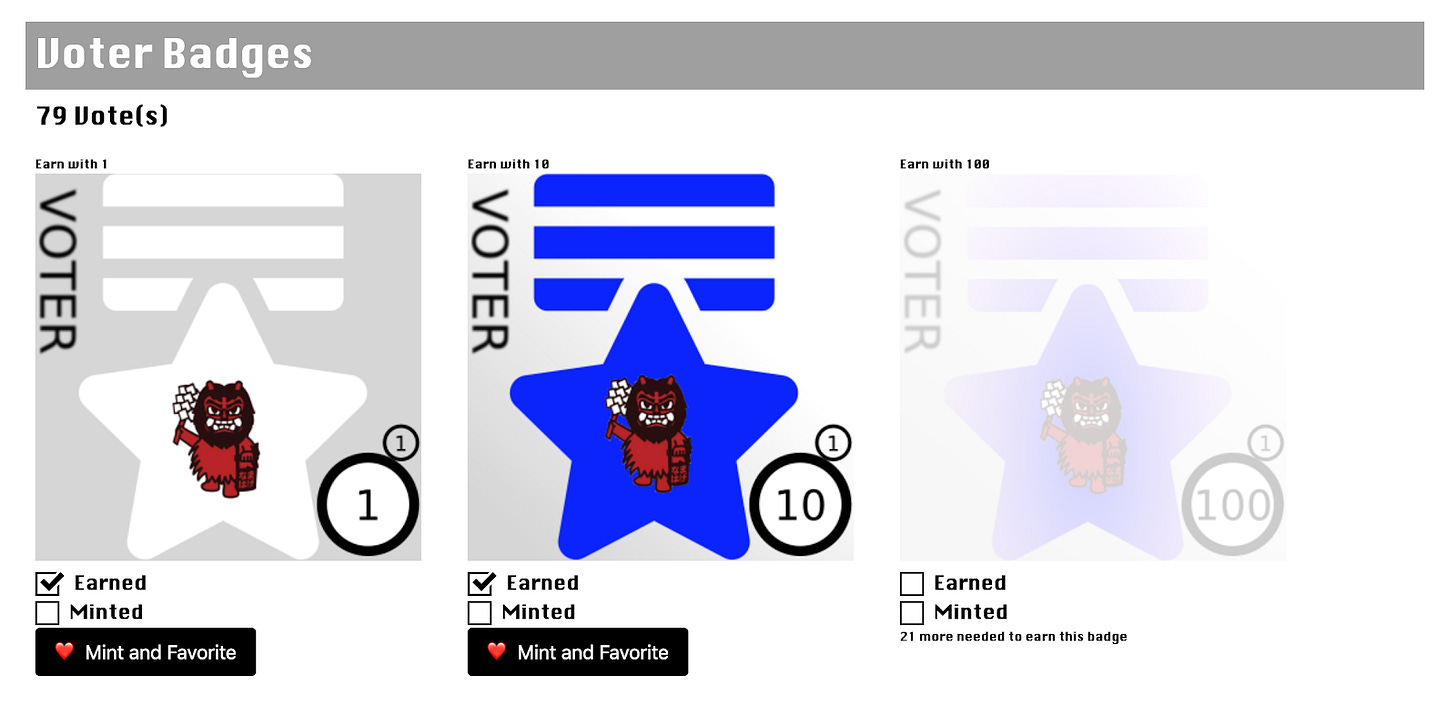 The notion of being able to tangibly reward someone with an exclusive seal of honor is quite powerful and thanks to Minion, there is now a way for collective DAO members to vote on whether or not that badge is appropriate, rather than in a peer to peer fashion as it works with other solutions.

Keen to help us buff out the front-end design? Contact us as this is the perfect example of an apprentice raid to earn your chops!
THE BIGGER PICTURE
As we continue to conduct a suite of internal Raids, it's important to note that we're slowly building out our foundation to better support a collective of web3 mercenaries. Working alongside prominent players like Conensys, Aragon, Gitcoin and others has further solidified Raid Guild's value add in the wider Ethereum ecosystem.

To further prove this point, we've seen over 20 new applications in the past month alone - all from different wizards keen on fighting alongside some of Ethereum's most passionate power users.
For the sake of breadth, we'll keep it here for this month's State of the Raid.

To learn more about any of the Raids above and how to get involved, please contact us to get more details on how to join.

Until then, be sure to stay up on all things Raid Guild via our official Twitter.